The River Golf Club's Accommodations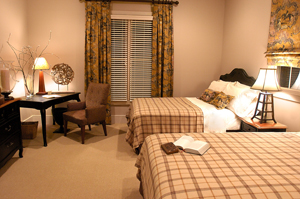 Enjoy golf accommodations at their finest. The cottages at River Club are the perfect place for any golf, family or business occasion that calls for hospitality in the Augusta area.
These cottages are comparable with accommodations found at the finest golf resorts in the southeast. We hope that you will consider treating you and your guest(s) to a stay with us real soon.
We regret that there are no golf cottages or overnight accommodations available for the Masters 2024 or 2025.
For further information and to schedule your stay or golf package please contact: Chris Verdery at 803-202-0110, ext. 3, or email at cverdery@rivergolfclub.com.
Cottage Information
Two Cottages, Cypress and Palmetto, offer the following: 
*   Four bedrooms with private bathroom and shower in each room
*   Two full beds in each room
One Cottage, Sweetbay, offers the following:
*    Eight bedrooms with private bathroom and shower in each room
*    One king size bed in each room
Additional Amenities for Cottages
*    Television in each bedroom
*    Kitchen with refrigerator, microwave, ice maker and oven
*    Wireless high speed internet
*    Living room area with large screen television
*    Washer / Dryer in each unit
*    Deck and back porch overlooking lake and eighteenth hole
*    Walk to course, clubhouse and practice facility
*    Complimentary club storage
*    Maid service provided
*    Business meeting and conference space in clubhouse
*    Preferred tee times and complimentary practice range
*    Catering available as well as evening dining (by request only)
*    Conveniently located across from downtown Augusta and popular shopping / dining areas
Booking Policy
The River Golf Club takes reservations up to two years in advance.  However, we allow groups to book for the same dates for the next year within one month of their stay. In other words, dates are blocked off up to 11 months ahead for groups that have reservations here to allow them to rebook for the following year.
307 Riverside Blvd.
North Augusta, SC 29841
(803) 202-0110
To access Drive Baseball website
please click here